Bali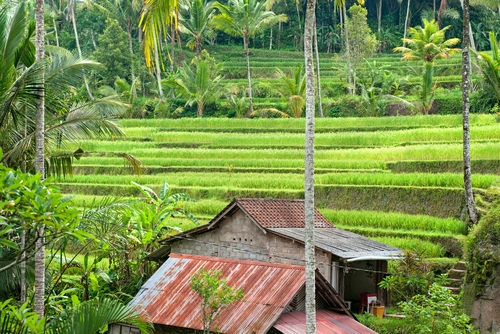 Published on October 11th, 2016
Your guide to Bali property: Tabanan
Tabanan offers a taste of the authentic Bali of old. You wont find high rise apartments or tourist bars here. Instead you'll gaze out over terraced rice paddies, explore mountain ranges and visit rugged black sand beaches.
There's certainly a place for the excitement of the islands heavily developed southern coast, but for those looking for something a little different Tabanan might be the answer. If you're considering a trip, or are looking at buying property in Bali, come with us as we take you on a tour through the many fascinations of Tabanan: the region at the heart of Bali.
The Sangeh Monkey Forest
The Sangeh Monkey forest is 13 hectares of giant nutmeg trees housing hundreds of grey long-tailed macaques, a rare and unique species of monkey. The entire area is a nature reserve, so the monkeys have grown bold and mischievous – even more so than their city central counterparts.
They'll come within inches of you, and are not above swooping down from their perches to relieve you of your lunch or bag of snacks. If you're brave enough after encountering swarms of these cheeky creatures, venture further into the green to discover a 17th century temple: Pura Bukit Sari. A truly special location, far removed from the buzz of the town.
Pura Tanah Lot
Perhaps Bali's most famous temple, Tanah Lot is a sight to behold. Sitting on the coast at the western fringe of Tabanan, this ancient temple is located atop a rocky outcrop off a black sand beach. Non-Hindu visitors aren't allowed to enter, but your can take in this magnificent sight from the shore or one of many restaurants on the cliff top.
This is one of the island's most historically important sea temples, said to have close ties to Nirartha: one of Bali's most revered priests.
Jatiluwih rice terraces
The Jatiluwih rice terraces are a UNESCO nominated heritage site: and for good reason.
The Jatiluwih rice terraces are a UNESCO nominated heritage site: and for good reason. These paddies resemble giant flattened steps down the side of steep hills, and their shocking green contrasts against the blue of the Bali sky.
Intricate waterways weave through the fields, and traditional Balinese buildings add character to the picturesque country side. Adventurous visitors should rent a bicycle and navigate the dusty roads through the fields to get a closer look.
If you're looking for a base from which to explore Tabanan and enjoy its many wonders, get in touch with Elders Bali.