Bali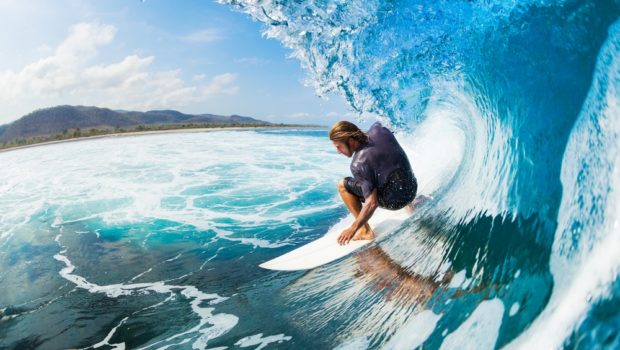 Published on October 5th, 2016
Bali: A surfer's nirvana
The surf breaks clean and crisp in Bali every time. It stays warm until late in the night, so you can stay out on the waves until after the sunset. When you finally come into shore exhausted the drinks are cheap, the food is delicious and the hospitality is always warm.
It's National Adventure Day in Australia on October 14th. Where will you be? Clacking away at a keyboard in a nondescript office cubicle, or riding a glassy wave in tropical heat on one of Bali's postcard perfect beaches? Just in case you make the right decision, we've whipped up a quick guide to Bali's best breaks.
Uluwatu beach
During a chat with Men's Journal Rob Machado, one of Australias' best surfers, rated Uluwatu as one of his favourite breaks in the world:
"One of my dream days would be waking up in Indonesia on the island of Bali. What's neat about Uluwatu is that it has so many different faces that it's like six or seven waves all combined to just one surf spot."
This beautiful beach on the south western tip of Bukit Peninsular is rated by Bali Surfing Advisor as a 'pro level' break. So it's best to only tackle the blue monsters out here if you know your way around a surfboard!
Tanah Lot Beach
Clean pristine surf breaks over a white sand beach, right next to one of the island's most iconic and beautiful temples – Tanah Lot. This small temple sits amongst the crashing surf on a narrow rocky outcrop, looking out into the wide expanses of the Indian ocean.
Only in Bali can you catch a perfectly formed eight foot tube a couple meters from an ancient temple.
Bali Surfing Advisor rates this as an intermediate wave, so most surfers with some experience will be able to safely navigate it.
You can look back at a beautiful beach from thousands of surf-spots around the world. But only in Bali can you catch a perfectly formed eight foot tube a couple metres from an ancient temple.
Kuta
Bali's most famous beach is an ideal starting spot for aspiring surfers, according to the trusty Bali Surf Advisor. The waves break soft and shallow, and there are plenty surf schools around the area providing lessons to get you out to those bigger breaks in no time.
If you're looking for to take advantage of one of the best surf spots in the world, get in touch with Elders Real Estate Bali. We know the island like locals and can help guide you to the perfect accommodation for rent or even to buy in Bali.