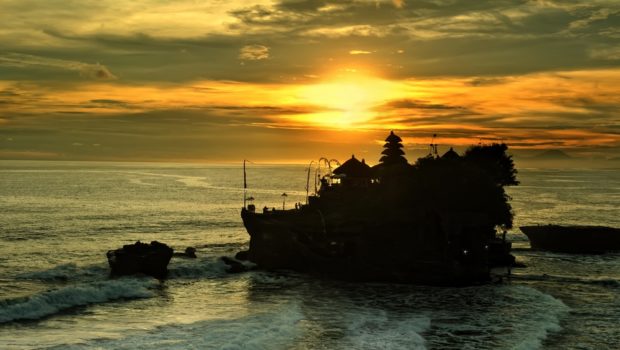 Published on September 1st, 2016
Bali's 3 most beautiful ancient temples
Bali has a long and storied history, dating back 3,000 years, according to the Bali Tourism Board. Since then, Indian, Hindu and Buddhist culture has blessed this tropical island with some of the worlds most unique and fascinating religious structures.
Sitting amongst the pristine white sand beaches, lush jungle and lively culture of Bali, these buildings are a reminder of the past and the deep spirituality of the island's people. Next time you visit, make sure you experience the three most beautiful temples in Bali, to witness their ornate ancient architecture yourself.
Tanah Lot
On a rough rocky outcrop off the beaches of Beraban village and 20 km north of Kuta, you'll find one of Bali's most iconic landmarks. Tanah Lot is a small and ancient Hindu shrine, whose beauty lies mainly in its picturesque location.
Waves constantly crash on its rocky island, creating the impression that it's floating in the sea. Due to its historic and religious significance you can not access the temple, but just laying eyes on it is well worth the trip. A long term property rental in Bali can provide you with a more relaxed stay, allowing you to become fully immersed in the rich history of wonders like Tanah Lot.
Uluwatu
Perched on the edge of a cliff 70 metres above Uluwatu Beach (one of Bali's best surf spots) this is a Hindu temple thought to be 1,000 years old. Getting to the temple requires a trek though bush and steep terrain, but the views of the waves crashing up the cliff and the sun setting over ancient Hindu shrines, are worth it every time.
The temple is surrounded by thick bush brimming with wild monkeys, so bring bananas and nuts as a peace offering if you visit!
Goah Gajah
A quick ten minute drive from Kuta, you'll find one of the most bizarre and interesting historic worship sites in Bali. While Goah Gajah translates into 'Elephant Cave', according to About Travel, there's no large creatures here. Instead you'll find a cave entrance extravagantly carved to resemble the open mouth of some mystic creature, which some say represents the Hindu earth god Bhoma.
Inside you'll find an ancient and mysterious worship area, filled with relics and sacred bathing pools.
If you're as fascinated as we are by the ancient history of Bali, get in touch with Elders Real Estate Bali. We can help find you the perfect property on the island, so that you can properly experience its many wonders in your own time.